Scouting at Home 419 Challenge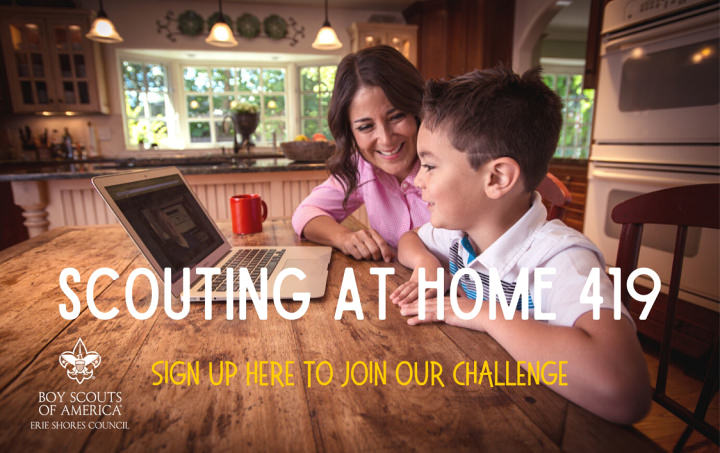 A Scout is:
Trustworthy, Loyal, Helpful, Friendly, Courteous, Kind, Obedient, Cheerful, Thrifty, Brave, Clean, and Reverent.
The Erie Shores Council recognizes that during this unprecedented time families and Scouts are staying home! We want to take this time to help carry out the Scouting mission in a way that corresponds with Social Distancing.
We are challenging all families and students in the area to take our Scouting At Home 419 challenge. This challenge is for all students and families to get involved; you do not have to be a Scout to engage with the Scouting community.
Over the next 6 weeks, the challenges will be introduced based on the 12 points of the Scouting Law and will encourage family fun while social distancing. Challenges will be presented weekly through social media and all are encouraged to get involved use the hashtag #ScoutingAtHome419 when completing the challenge.
Fun prizes as well as the chance to be featured on the Erie Shores Council social media are possible each week. In order to be eligible for the prize drawing or to be featured on our social media, you must register to be eligible.
Current Scouts who participate in the challenges will be eligible to earn a Messengers of Peace patch and complete online merit badges or belt loop classes. To learn more, visit our website or social media pages. All questions can be sent to scoutreach460@gmail.com

---