Swan Creek Fall Camporall-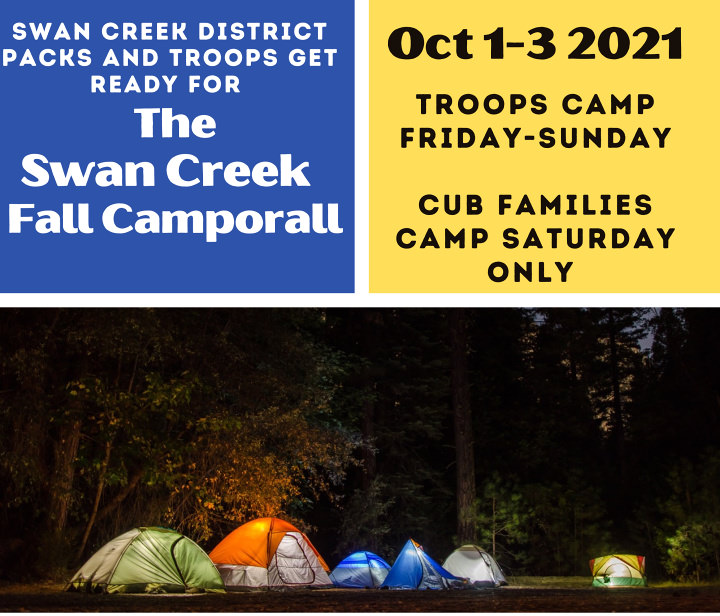 Date/Time:
Oct 1, 2021 6:00 pm to Oct 3, 2021 10:00 am
Location:
Lucas County Fairgrounds
1406 Key St, Maumee, OH
Maumee, OH 43537

Swan Creek Units join us for a fun weekend of camping and adventure, in the first Swan Creek Fall
Camporall! Scouts BSA Troops and Venture Crews will camp Friday and Saturday night. Cub Scout
Packs are invited to come Saturday morning and camp Saturday night.
Scouts BSA Troops and Venture Crews will be focused on activities related to Horsemanship Merit
Badge. The Lucas County Saddle Horse Advisory Board and Lucas County Fair Board will provide
horses and equestrian experts to offer horseback riding opportunities and knowledge sessions related
to the merit badge. To complete the horsemanship merit badge, participants will have the opportunity
to arrange to complete the remaining requirements at a local stable.
Cub Scouts of all ages and their families are invited to attend with their Cub Scout Pack and can look
forward to activities such as Archery, BB Guns, Alka seltzer rockets, giant bubbles, a Rain Gutter
Regatta, Bicycle Driver's license, Giant Marbles, miniature horses, vespers and campfire. The final list
of activities may vary the day of the event.
Registration cost is $8 each, for both youth and adults and includes a patch and the program activities.
Registration is to be done through your Troop, Crew, or Pack using the online registration form. All
participants must complete a BSA Pre-Event Covid Health Form and those Troops and Crews
attending must also complete at horsemanship liability waiver and watch a mandatory horsemanship
safety video. All forms are to be turned in at check in time. Food during the event is the responsibility of
your Troop, Crew, or Pack and is not included in the registration fee.
| File Name | Description | |
| --- | --- | --- |
| BSA Activity Consent Form | | Download |
| Camporall Map | SC caporal map | Download |
| ESC COVID-19 Pre-event screening form | | Download |
| Horsemanship stations | SC camporall horsemanship map | Download |
| Swan Creek Camporall Leader Guide | Swan Creek District Fall 2021 Camporall Leader and Parent Guide | Download |
| Swan Creek Camporall Schedule | | Download |