Camping: Miakonda Cub Day Camp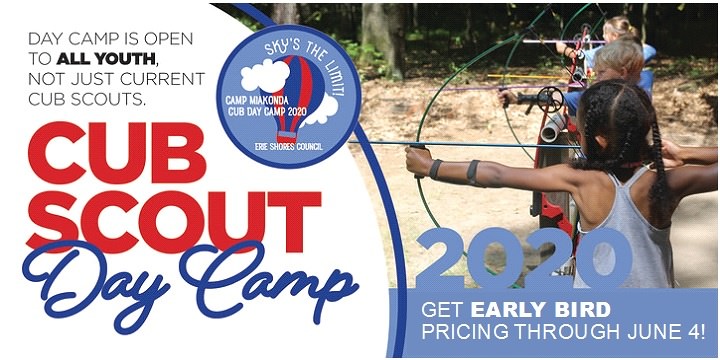 Camp Activities:
Cub Scouts will have the opportunity to participate in many fun outdoor opportunities. These opportunities may include swimming, archery, BB guns shooting, STEM (Science, Technology, Engineering, and Mathematics), handicrafts, games, Scout Skills, nature, fishing, and Family Night.
2020 Dates & Time - Now FIVE weeks available!
Drop off Time 8:30 AM - 9:00 AM
Pick Up around 4:15 PM (Campers are released with guardian signature after closing flag)
Week 1 June 15-19
Week 2 June 22-26
Week 3 June 29 - July 3
Week 4 July 6-10
Week 5 July 13-17
Cost:
Early Bird Registration Fee by June 4, 2020, $185*
Regular Registration Fee after June 4, 2020, $205*
*A $20 per week discount is available for additional weeks of day camp attendance.
A sibling discount of $20 per week is available for Cub Scouts from the same immediate family. Please contact Samantha Andreas at 419-843-0107 before completing the online registration process to receive the discount.
The cost includes lunch, Day Camp T-shirt, camp patch, and a week-long experience your camper will never forget!
**All campers entering 1st grade will need an adult partner with them each day of camp.**
Camperships:
If you need assistance in helping to pay for your camper's participation at Cub Day Camp, please apply for a Campership through the Erie Shores Council Campership Program. For more information, please click here.
Free Water Bottle
If you turn in your health form early in the Iott Scout Shop (one per camper). Stop by the Scout Shop to drop off your form and pick up your water bottole or bring your health form to your pre camp meeting and get your water bottle there. Health Forms must be turned in by the Wednesday before your Scout's week at camp to earn the free water bottle.
What to Bring:
BSA Annual Health & Medical Record, Parts A&B (A Tetanus immunization is required and must have been received within the last 10 years.)
Swimsuit and a towel
Socks and closed-toe shoes should be worn each day

NO SANDALS/OPEN TOE OR HEEL SHOES!

Hat
Poncho
Insect repellant (non-aerosol containers)
Sunscreen (non-aerosol containers)
Water bottle; water is provided
A backpack to carry the above items
---
PLEASE MARK YOUR CHILD'S NAME ON EVERYTHING THEY BRING TO CAMP.
---
Trading Post:
At our Trading Post, Cub Scouts may purchase drinks, candy, and camp souvenirs.
Lunch:
New this year LUNCH is included in your camp fees!
Volunteers Needed:
Parents, grandparents, older siblings, and other adult volunteers are always welcome to be part of day camp. All volunteers need to complete youth protection training. If volunteers are not a parent or legal guardian they will need to speak with the camp administration. An Adult Volunteer Form must be completed along with BSA Annual Health & Medical Record, Parts A & B (A Tetanus immunization is required and must have been received within the last 10 years.). Volunteers will need to check-in at the camp office daily. All volunteers will receive lunch, a t-shirt, and a day camp patch.
**All youth entering 1st grade will need an adult partner with them each day of camp.**
Family Night:
Family members are invited to come and enjoy camp with their Scout by attending Family Night on Thursday evenings of camp. Walk around camp with your Scout and let them guide you to their favorite areas of camp. Camp will provide a hot dog and chips or bring a picnic supper to enjoy in our picnic area. After walking around camp, your Scout and their den will participate in a fun and exciting campfire program to conclude the evening.
IMPORTANT REGISTRATION INFORMATION: Please call the Council office before you pay for your registration if any of these apply to you.
You have a Popcorn Certificate
You have a FOS certificate
You are registering more than one Scout from the same family
In the case of the certificates, you must present your certificates to the Scout Shop to receive the awarded amount.
If you have a sibling discount, call or email Samantha Andreas at 419-843-0107 or Samantha.Andreas@scouting.org. An adjustment to your online price can be made quickly.
Drone Policy
Camp Miakonda does not allow the use of drones in camp due to the proximity of Flower Hospital to the camp.