Day of Giving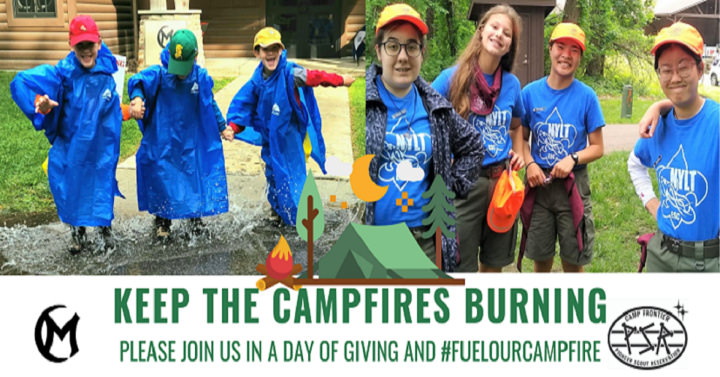 We invite you to join us in a spirit of giving and generosity to support our beloved local Scouts.

Your gift supports more than 2,500 youth attending Camp Miakonda and Camp Frontier this summer,

as well as, more than 3,000 Scouts who participate year-round from across Lucas, Wood, Ottawa,

Sandusky and a portion of Fulton Counties in Northwest Ohio.
Together our goal recognizes 105 years of Camp Miakonda and 54 years of Camp Frontier camping seasons.

That's 159 combined years of summer camp!
Thanks for helping future generations enjoy ALL that Scouting offers!
---
---
As a thank you for your investment, we are offering a commemorative patch and coin at the following levels:
$35.00 Support A Day at Camp:
Bronze Border Council Shoulder Patch
$80.00 Support A Weekend Campout:
Silver Border Council Shoulder Patch
$175.00 Support A Week of Camp Miakonda Day Camp:
Gold Border Council Shoulder Patch
$300.00 Support A Week of Camp Frontier Summer Camp: Platinum Border Council Shoulder Patch and Commemorative Coin*
*Special Erie Shores Council Neckerchief for $300+ donors that also gave $250+ in 2021

"Scouting has been a wonderful father – son experience. My son James was always happy to have me participate in all the Troop activities.
From the first day of Cub Scouts to Eagle Scout, his senior year of high school, we have fabulous memories. Scouting was a great way to spend time with my Son and spend time getting to know his friends better.
I have made, and continue to be, friends with the fellow parents of scouts."
-- Sheriff Mark.