Iott Scout Shop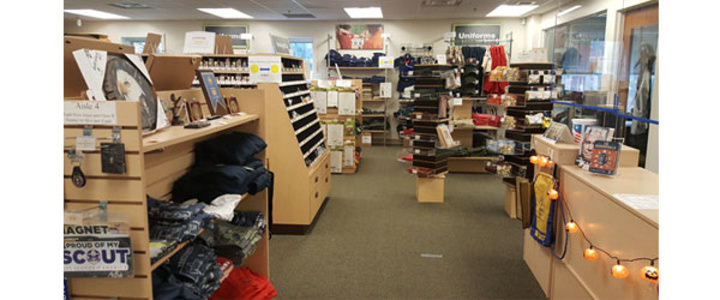 Regular Hours (September - May)
Monday 8:30 a.m.-5:00 p.m.
Tuesday 8:30 a.m.-5:00 p.m.
Wednesday 8:30 a.m.-5:00 p.m.
Thursday 8:30 a.m.-7:00 p.m.
Friday 8:30 a.m.- 5:00 p.m.
Saturday 9:00 a.m.-2:00 p.m.
Closed Sunday
---
Summer Hours (Memorial Day - Labor Day)
Monday - Friday 8:30 a.m. - 5:00 p.m.
Thursday 8:30 a.m. - 6:00 p.m.
Closed Saturday and Sunday

The Iott Scout Shop is participating in an online ordering system for ease in placing orders. Please specify Erie Shores Iott Shop when placing your order. When your order is filled and ready for pick up, the store will contact you for payment information. Mail order is available for an additional fee. Check out our handy shopping tips list in the Scout Shop Links menu to the right for sizing recommendations.
---
Did you know? We now have an Iott Scout Shop Facebook page! Follow us for great Scouting tips and the latest product information! www.facebook.com/iottscoutshop
---
News Flash...
Patch Sewing Service is available!
The store has a stock of pre-sewn uniform shirts with the Council Shoulder Patch and the World Crest Emblem. The cost is $3 per patch for the service. There is a $2 per patch fee for patches that need removed.
CUB SCOUT NEWS
Need a National Summertime Pack Award event?
Try the Raingutter Regatta! We have several units trying new ways to "power" the boats. Battery-powered handheld fans or bellows have been suggested. Racetracks and boats are available!
The summer months are a great time to purchase next-level gear at the Scout Shop! Stop in after camp drop-off to get new grade level neckerchiefs, slides, books, and hats. Avoid the fall rush!
We have Cub Scout essential gear such as water bottles and rain gear too!
Scouts BSA News
BSA shorts are available for boys and men. The Scouts BSA shorts are made from 66% cotton, 32% polyester, and 2% spandex. The olive-green stretch canvas fabric is both durable and comfortable and features two front hip pockets, two back pockets, and two cargo-style pockets with snap closures.
Does your camping gear need an upgrade? The Iott Scout Shop has camping gear and can order any specialty items needed.
The Erie Shores Council has a full-service Scout Shop with a wide variety of Scouting items.
The store is located inside the Jadel Leadership Center at Camp Miakonda
5600 West Sylvania Avenue,
Toledo, OH 43623
419-843-0113 Direct Line
Items available to purchase include, but are not limited to, are:
Uniforms - Shirts, pants, shorts, socks, neckerchiefs, hats, neckerchief slides

Books - Handbooks, merit badge books, crafts, how-to books

Derby Cars - Regatta Kits - Complete with decals, tools, and special options to dress up your vehicle.

Camping equipment - Tents, knives, mess kits, utensil kits, backpacks, first aid kits, compasses, water bottles, and more!

Advancement - Badges of rank and achievement, awards, patches, pins, and insignia. Advancement paperwork is required to purchase.

Gifts- Eagle Scout gifts and Adult Leader recognitions

Patch Sewing Services
Payments accepted are checks, cash, VISA, Mastercard, and Discover. A unit can deposit money "on account" with the Iott Shop so it's ready for the Advancement Chair to use when they pick up awards and/or supplies. Accounts can be personalized for the unit to limit the use of the account and to file for tax-exempt status. Please make checks payable to Erie Shores Council, BSA. No two-party checks are accepted.
All rank advancements and badges of achievement must be accompanied by an Advancement Form for recording the Scout's achievements at the time of purchase. Forms are available at the Iott Scout Shop and online. Forms and Purchase orders may also be emailed to erie.shorescouncil@scouting.org.
Return Policy: 30 days with receipt for full credit. Final sale on all clearance items.
Hold Policy We are happy to give you a courtesy call when out-of-stock items have arrived in the shop. Items will be held a maximum of 5 days from the date of our call and will then be returned to the sales floor.