Iott Scout Shop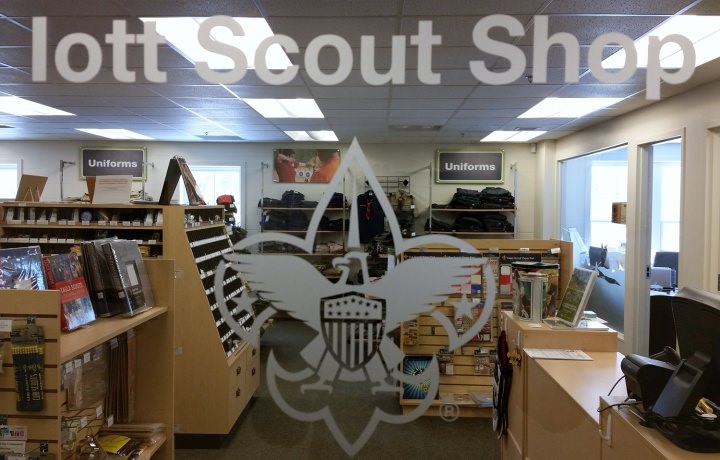 REGULAR HOURS (Oct 1, 2019-May 22, 2020):
Monday, Tuesday, Wednesday, Friday 8:30 am-5 pm
Thursday 8:30 am-7 pm
Saturday 9 am-2 pm
In case of inclement weather, closings will be posted here and on the Iott Scout Shop Facebook page. We typically stay open unless there is more than 4 inches of snow or a Lucas County level 3 snow emergency.
Did you know? We now have an Iott Scout Shop Facebook page! Follow us for great Scouting tips and the latest product information! www.facebook.com/iottscoutshop
The Erie Shores Council has a full service Scout Shop with a vide variety of Scouting items. Sara Crosby, our Scout Shop Manager will greet you and ensure all your needs are met.
The store is located in the Jadel Leadership Center at Camp Miakonda
5600 West Sylvania Avenue,
Toledo, OH 43623
Items available to purchase include, but are not limited to, are:
Uniforms - shirts, pants, shorts, socks, neckerchiefs, hats , neckerchief slides

Books - handbooks, merit badge books, crafts, how-to books

Derby Cars - Regatta Kits - Space Derby Kits - Complete with decals, tools, and special options to dress up your vehicle.

Camping equipment - tents, knives, mess kits, utensil kits, backpacks, scout specific dutch ovens and skillets made by Lodge, first aid kits,compasses, and water bottles.

Advancement - badges of rank and achievement, awards, patches, pins and insignia. Advancement paperork required to purchase.

Apparel- Class B T-shirts, sweatshirts, rain jackets, hats

Gifts- Eagle Scout gifts, and Adult Leader recognitions
We are can order any items your unit may need from the Scout catalog and have them delivered to the Iott Scout Shop. We pay the shipping so you don't have to! Contact Sara to order at 419-843-0113 or e-mail at Sara.Crosby@Scouting.org
Payments accepted are check, cash, VISA,Mastercard, and now Discover. A unit can deposit money "on account" with the Iott Shop so it's ready for the Advancement Chair to use when they pick up awards and/or supplies. Accounts can be personalized for the unit limiting the use of the account and to file for tax exempt status. Please make checks payable to Erie Shores Council, BSA. No two party checks accepted.
All rank advancements and badges of achievement must be accompanied by an Advancement Form for recording the boys' achievements at the time of purchase. Forms are available at the Iott Scout Shop and online. Erie Shores Council units check out the requirements for Free Rank for your Scouts.
Return Policy 30 days with receipt for a refund; 60 days with receipt in store credit only.
Hold Policy We are happy to give you a courtesy call when out of stock items have arrived in the shop. Items will be held a maximum of 5 days from the date of our call and will then be returned to the sales floor.
March 2020 News Flash...
We have a new Clearance section!
Stay tuned to the Iott Scout Shop Facebook page for updates, flash sales, and sweet deals!
Patch Sewing Services available!
The store has a stock of pre-sewn uniform shirts with the Council Shoulder Patch, World Crest Emblem and World Crest ring. The cost is $3 per patch for the service. Pack numbers and any patch sewing needs can be performed with an estimated one week return time.
CUB SCOUT NEWS
Many people ask us what to do with all those extra fun program patches. Where do they go? We have 2 options available for purchase at the Iott Scout Shop. A red patch vest is typically worn by Cub Scouts over the top of the uniform shirt. We also have a red patch blanket for the Scouts BSA and Venturers to display patches. Finished examples are now on display in the shop and we have our patch sewing service available to put them on for you!
There are 2 new preview adventures for Cub Scouts! The Protect Yourself Rules Adventure Loops and Pins are available for grades K-5. The Yo-Yo Adventure is available for grades 2-5. The loops and pins will be purple and are beginning to arrive in the shop now. Want to learn more about the program and requirements? They are all online at this link: https://www.scouting.org/programs/cub-scouts/preview-adventures/
Cub Scout belts are changing a little bit. There is a standard size 54 inch belt that can be cut to fit your scout. (remember that the belt is used for grades K-3 so leave some growing room) Ladies clear fingernail polish or super glue works well to seal the cut so the belt doesn't unravel. Our staff is happy to demonstrate how to cut the belt if you need assistance.
Scouts BSA News
The Scouts BSA Handbook for Boys will have a cover change this year. There is no significant content change. The 14th edition book has a green cover and is available now.
Many people have asked me about class B uniforms. A class B uniform is any scouting T shirt with the uniform bottoms. We have a rotating selection of shirts in youth and adult sizes.
The Scouts BSA uniforms are slowly changing for everyone. The microfiber material will be discontinued as well as the canvas for the newer style. This is true for the men as well as the women. Most youth sizes are already sold out in the microfiber, so if you are in love with the material get more soon!
COMING SOON!
The new Scouts BSA uniform is starting to roll out for youth members! The material is 66% cotton, 32% nylon and 2% spandex. The pants have an improved design with hidden elastic inside to adjust the waist at 1/2 inch increments. It also has the same zip off pant legs to convert to shorts and 2 flap style cargo pockets on the side of the legs with a snap closure. The youth sizes will begin to appear at the end of this month.
Available Now at the Iott Scout Shop
NEW Leatherman Squirt PS4
Blue & Gold Patches and decorations
2020 Scouts BSA Requirements book
Pinewood Derby decals and sound kits Police, fire, ice cream truck, and racecar!
Ladies Scouts BSA Kayaking T-Shirt in Lavender
T-Shirt "What's in your tool kit?" In Mens, Ladies, and youth sizes
Mens "Explore Scouts BSA" T-shirt in gray
Scouts BSA Mohawk Winter Hat
CS youth blue zippered hoodie
CS Red Cub Scout Hooded Sweatshirt
T Shirt Cub Scout Answer the Call in youth sizes
T Shirt Leader of the Pack
Lion Den Flags
The 10 Essentials Game
Eagle Scout Timex Watch
BSA Timex Watch
Scout Law Bracelets (Friendly, Trustworthy, Loyal, Kind, Helpful, and Brave)
Wolf Em' campfire sticks (for tasty new campfire treats!)
Classic Thorlo Red top socks
Eagle Scout Travel Mug
Eagle Scout Grandparent pin
Eagle Scout Cupcake wrappers and party pics
Eagle Scout Tan Leather Wallet
Paperwieght/Coin from NW Territorial Mint "Preparing New Generations" engravable
Paperweight/ Coin from NW Territorial Mint with Scout Sign engravable
Camping Gear
Leatherman Leap Multi Tool
Dutch Oven Dome (use on a propane stove to make your dutch oven convection)
Camp Chef 2 burner carry bag for stoves
Coleman rechargeable quick pump
Mosquito Oasis Bug Screen Tent
Coleman Big & Tall Quad Chair
Kelty 30 degree rectangular sleeping bag
Klymitt brand sleeping mats
Coleman Trailhead 2 Cots
Lodge Brand Boy Scout Cast Iron Skillet
Lodge Brand Cast Iron 6 Qt. Dutch Oven
Camp Chef Dutch Oven Dome
GCI Folding Cook Station
Coolers
Osprey backpacks for Youth, Women and Men
Cub Scout and Boy Scout Logo String bags
ENO Daypacks Limited Supply!
Camelback Cub Scout, Boy Scout and Eagle Scout Logo Water Bottles
Gear Straps
Personal First Aid Kits
We also have a large variety of Pocket knives