Iott Scout Shop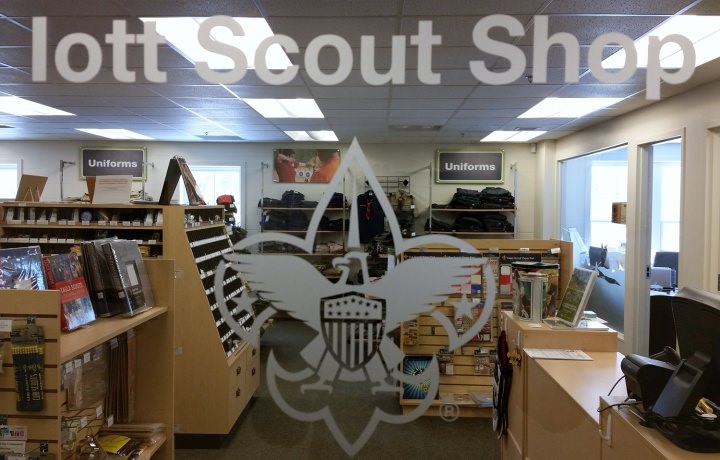 SPECIAL NOTICE:
Summer Hours in effect until August 31, 2019
Shop and Council Office Summer Hours Monday-Friday 8:30 a.m.-5 p.m.
Closed Saturday and Sunday
Regular Hours begin Tuesday September 3, 2019
HOLIDAY HOURS
Closed Monday September 2, 2019 for Labor Day
Did you know? We now have an Iott Scout Shop Facebook page! Follow us for great Scouting tips and the latest product information! www.facebook.com/iottscoutshop
The Erie Shores Council has a full service Scout Shop with a vide variety of Scouting items. Sara Crosby, our Scout Shop Manager will greet you and ensure all your needs are met.
The store is located in the Jadel Leadership Center at Camp Miakonda
5600 West Sylvania Avenue,
Toledo, OH 43623
Items available to purchase include, but are not limited to, are:
Uniforms - shirts, pants, shorts, socks, neckerchiefs, hats , neckerchief slides

Books - handbooks, songbooks, skits, ceremonies, crafts, how-to books

Derby Cars - Regatta Kits - Space Derby Kits - Complete with decals, tools, and special options to dress up your vehicle.

Camping equipment - tents, knives, mess kits, utensil kits, backpacks, scout specific dutch ovens and skillets made by Lodge, first aid kits,compasses, and water bottles.

Advancement - badges of rank and achievement, awards, patches, pins and insignia.

Crafts- wood kits, paracord project materials, and leathercrafts.

Apparel- Class B T-shirts, rain jackets, hats

Gifts- Eagle Scout gifts, and Adult Leader recognitions
We are can order any items your unit may need from the Scout catalog and have them delivered to the Iott Scout Shop. We pay the shipping so you don't have to! Contact Sara to order at 419-843-0113 or e-mail at Sara.Crosby@Scouting.org
Payments accepted are check, cash, VISA,Mastercard, and now Discover. A unit can deposit money "on account" with the Iott Shop so it's ready for the Advancement Chair to use when they pick up awards and/or supplies. Accounts can be personalized for the unit limiting the use of the account and to file for tax exempt status. Please make checks payable to Erie Shores Council, BSA. No two party checks accepted.
All rank advancements and badges of achievement must be accompanied by an Advancement Form for recording the boys' achievements at the time of purchase. Forms are available at the Iott Scout Shop and online. Erie Shores Council units check out the requirements for Free Rank for your Scouts.
Return Policy 30 days with receipt for a refund; 60 days with receipt in store credit only.
Hold Policy We are happy to give you a courtesy call when out of stock items have arrived in the shop. Items will be held a maximum of 5 days from the date of our call and will then be returned to the sales floor.
August 2019 News Flash...
Patch Sewing Services available!
The store has a stock of pre-sewn uniform shirts with the Council Shoulder Patch and World Crest Emblem. The cost is $3 per patch for the service. Pack numbers and any patch sewing needs can be performed with an estimated one week return time.
CUB SCOUT NEWS
There are 2 new preview adventures for Cub Scouts! The Protect Yourself Rules Adventure Loops and Pins are available for grades K-5. The Yo-Yo Adventure is available for grades 2-5. The loops and pins will be purple and are beginning to arrive in the shop now. Want to learn more about the program and requirements? They are all online at this link: https://www.scouting.org/programs/cub-scouts/preview-adventures/
Cub Scout belts are changing a little bit. There is a standard size 40 inch belt that can be cut to fit your scout. (remember that the belt is used for grades K-3 so leave some growing room) Ladies clear fingernail polish or super glue works well to seal the cut so the belt doesn't unravel. Our staff is happy to demonstrate how to cut the belt if you need assistance.
Wolf hats are changing color from gold to red. This exciting new look eliminates confusion with the Lions! Both gold and red are acceptable at the Wolf level as we make thiis transition and it is expected that we will see both colors at the Wolf level for several years. Red neckerchiefs will be available soon.
Scouts BSA News
Many people have asked me about class B uniforms. A class B uniform is any scouting T shirt with the uniform bottoms. We have a rotating selection of shirts in youth and adult sizes.
The Scouts BSA uniforms are slowly changing for everyone. The microfiber material will be discontinued as well as the canvas for the newer style. This is true for the men as well as the women. Many womens sizes are already sold out in the microfiber, so if you are in love with the material get more soon!
New editions of merit badge books are slowly rolling out with gender neutral language. Many of the books do not have any requirement changes. The 2019 requirements book has all the updates to merit badges and is available now.
New at the Iott Scout Shop
T Shirt Leader of the Pack
Infinity Scarves
CS Necklaces
Smore Key Chain
Tiger Key Chain
Lion Coin Purse
Cub Scout Earrings
Cub Scout Charm Bracelet
Lion Den Flags
Lion Backpack
The 10 Essentials Game
Eagle Scout Timex Watch
BSA Timex Watch
Scout Law Bracelets (Friendly, Trustworthy, Loyal, Kind, Helpful, and Brave)
Eagle Scout Ball Cap
Wolf Em' campfire sticks (for tasty new campfire treats!)
Classic Thorlo Red top socks
Check out the Camp Maid cooking system available for purchase at the Iott Scout Shop! This system works with a dutch oven and is great for scout camping or tailgate parties. To view a video on how it works check out www.scoutstuff.org/campmaid
Eagle Scout Travel Mug
Eagle Scout Grandparent pin
Eagle Scout Cupcake wrappers and party pics
Woodcraft Whittling Neckerchief Slide Projects
Eagle Scout Tan Leather Wallet
Captain Phillips Book "A Captain's Duty" hand signed by the author ON SALE NOW!
Paperwieght/Coin from NW Territorial Mint "Preparing New Generations" engravable
Paperweight/ Coin from NW Territorial Mint with Scout Sign engravable
Camping Gear
Leatherman Leap Multi Tool
Dutch Oven Dome (use on a propane stove to make your dutch oven convection)
Camp Chef 2 burner carry bag for stoves
Coleman rechargeable quick pump
Mosquito Oasis Bug Screen Tent
Coleman Big & Tall Quad Chair
GCI Freestyle Rocker
Kelty 30 degree rectangular sleeping bag
Klymitt brand sleeping mats
Coleman Trailhead 2 Cots
Lodge Brand Boy Scout Cast Iron Skillet
Lodge Brand Cast Iron 6 Qt. Dutch Oven
Camp Chef Dutch Oven Dome
Camp Chef Explorer 2 burner stove
GCI Folding Cook Station
Coolers
Osprey backpacks for Youth, Women and Men
Cub Scout and Boy Scout Logo String bags
ENO Daypacks Limited Supply!
Camelback Cub Scout, Boy Scout and Eagle Scout Logo Water Bottles
Gear Straps
Personal First Aid Kits
We also have a large variety of Pocket knives