Iott Scout Shop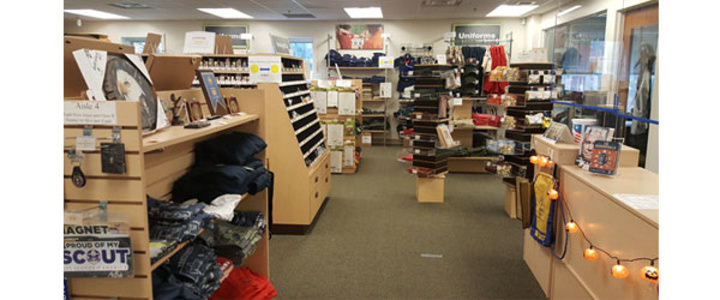 Regular hours
Monday 8:30 a.m.-5:00 p.m.
Tuesday 8:30 a.m.-5:00 p.m.
Wednesday 8:30 a.m.-4:00 p.m. (early closure for COVID cleaning)
Thursday 8:30 a.m.-7:00 p.m.
Friday 8:30 a.m.-5:00 p.m.
Saturday 9:00 a.m.-2:00 p.m.
---
Did you know? We now have an Iott Scout Shop Facebook page! Follow us for great Scouting tips and the latest product information! www.facebook.com/iottscoutshop
---
National Promotion Starts Monday, August 17, 2020!
Buy any uniform top and get the matching program bottom for 25% off!

SALE EXTENDED TO OCTOBER 31, 2020!
* Retail only. Uniform top and bottom must be from the same program and purchased together. Offer valid in participating Scout Shops from 08/17/20 to 10/10/20 at 11:59 pm EST. Not valid on previous purchases. May not be combined with any other offer or discount. No cash value.

New Scouts BSA Uniforms are beginning to arrive for men and boys! Limited Supply on the new uniforms as we wait for new shipments to arrive. Check out the great new features in the graphic above!
---
COVID-19 Updates
WE ARE OPEN TO THE PUBLIC
The Iott Scout Shop is in compliance with the State of Ohio COVID-19 regulations for retail.
Please see our best practices that we put in place so you can "Be Prepared" when you visit.
Our staff will wear masks in open areas.
A clear shield is in place at the cash register.
Social distancing spaces are clearly marked on the floor in the Scout Shop.
Hand sanitizing stations are available.
Regular cleaning and sanitation per CDC guidelines will take place daily.
Two customers or one family are allowed in the store at a time. (Waiting space is available in the A-Frame.)
The Erie Shores Council requires a facemask to enter our building. (Please call if accommodations are needed.)
Click here for the latest COVID-19 update.
We have created an order form for ease in placing orders. When your order is filled and ready for pick up, the store will contact you for payment information and to schedule a pickup time. (Please do NOT send credit card information by email for your security). Pick up will be at the Jadel Leadership Center. Mail service by USPS is also an available option with an additional cost for shipping. Check out our handy shopping tips list in the Scout Shop Links menu to the right for sizing recommendations.
---
The Erie Shores Council has a full-service Scout Shop with a wide variety of Scouting items. Sara Crosby, our Scout Shop Manager, will greet you and ensure all your needs are met.
The store is located inside the Jadel Leadership Center at Camp Miakonda
5600 West Sylvania Avenue,
Toledo, OH 43623
419-843-0113 store phone direct line
Items available to purchase include, but are not limited to, are:
Uniforms - shirts, pants, shorts, socks, neckerchiefs, hats, neckerchief slides

Books - handbooks, merit badge books, crafts, how-to books

Derby Cars - Regatta Kits - Complete with decals, tools, and special options to dress up your vehicle.

Camping equipment - tents, knives, mess kits, utensil kits, backpacks, scout specific dutch oven made by Lodge, first aid kits, compasses, water bottles, and more!

Advancement - badges of rank and achievement, awards, patches, pins, and insignia. Advancement paperwork required to purchase.

Apparel- activity t-shirts, sweatshirts, rain jackets, hats

Gifts- Eagle Scout gifts, and Adult Leader recognitions
Payments accepted are check, cash, VISA, Mastercard, and now Discover. A unit can deposit money "on account" with the Iott Shop, so it's ready for the Advancement Chair to use when they pick up awards and/or supplies. Accounts can be personalized for the unit limiting the use of the account and to file for tax-exempt status. Please make checks payable to Erie Shores Council, BSA. No two-party checks accepted.
All rank advancements and badges of achievement must be accompanied by an Advancement Form for recording the Scouts achievements at the time of purchase. Forms are available at the Iott Scout Shop and online. Forms and Purchase orders may also be emailed to Sara.Crosby@scouting.org.
Return Policy 30 days with receipt for full credit.
Hold Policy We are happy to give you a courtesy call when out of stock items have arrived in the shop. Items will be held a maximum of 5 days from the date of our call and will then be returned to the sales floor.
October 2020 News Flash...
We have a new Clearance section!
Stay tuned to the Iott Scout Shop Facebook page for updates, flash sales, and sweet deals!
Lion Men's Leader shirts were $29.99 now $19.99!
Patch Sewing Services available!
The store has a stock of pre-sewn uniform shirts with the Council Shoulder Patch, World Crest Emblem, and World Crest ring. The cost is $3 per patch for the service.
CUB SCOUT NEWS
Many people ask us what to do with all those extra fun program patches. Where do they go? We have 2 options available for purchase at the Iott Scout Shop. A red patch vest is typically worn by Cub Scouts over the top of the uniform shirt. We also have a red patch blanket for the Scouts BSA and Venturers to display patches.
There are 2 preview adventures for Cub Scouts! The Protect Yourself Rules Adventure Loops and Pins are available for grades K-5. The Yo-Yo Adventure is available for grades 2-5. The loops and pins will be purple and are in the shop now. Want to learn more about the program and requirements? They are all online at this link: https://www.scouting.org/programs/cub-scouts/preview-adventures/.
Scouts BSA News
New Scouts BSA Uniforms for Youth and Men
The material is 66% cotton, 32% nylon, and 2% spandex. The pants have an improved design with hidden elastic inside to adjust the waist at 1/2 inch increments for youth. It also has the same zip-off pant legs to convert to shorts and 2 flap style cargo pockets on the side of the legs with a snap closure.
The older style microfiber uniforms and cotton/canvas uniforms will be discontinued. We are beginning to mark those items down now. All sales will be final, as these are discontinued items.