Why Scouting?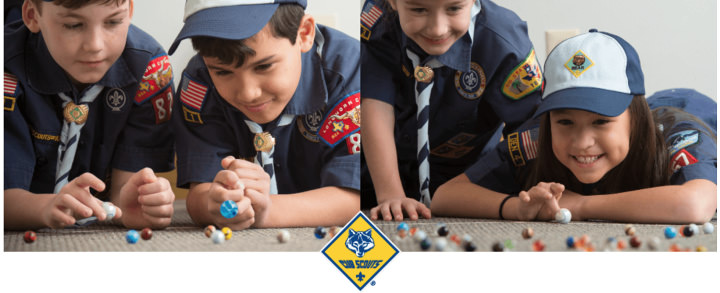 Click "Scout Me In"
to Find Scouting Near You
Scouting is:

adventure, family, fun, character, leadership and so much more. Scouting builds confidence, creates friendships and instills positive values that a Scout will carry with them for a lifetime.

We have programs for youth grades K-12. Find out more about each program below.
Scouting is:

fun, hands-on learning and achievement that puts kids in the middle of the action and prepares them for today – and for life.
Click below to learn more about our programs
| | | | |
| --- | --- | --- | --- |
| | | | |
| Ages 5-10 | Ages 11-17 | Ages 14-20 | Ages 14-20 |
In Scouting:

youth learn through the experiences of camping, hiking, building projects and community service. These experiences allow youth to grow and mature at their own pace. And it is the results of these experiences that cause parents to say, "There are things learned in Scouting which a child cannot readily pick up elsewhere." It is also through these experiences that parents and children get an opportunity to share and talk about their thoughts, feelings, goals, and values.

Scouting provides youth with a sense that they are important as individuals. It is communicated to them that those in the Scouting family care about what happens to them, regardless of whether a game is won or lost.

Finally, and perhaps most importantly, Scouting promotes activities that lead to personal responsibility and high self-esteem. As a result, when hard decisions have to be made, peer pressure can be resisted, and the right choices can be made.