University of Scouting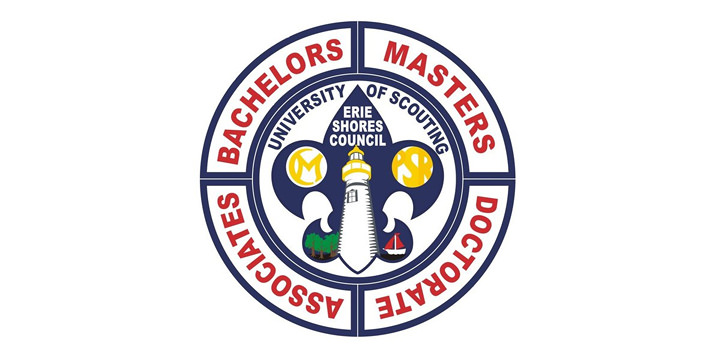 University of Scouting -- Saturday, March 5, 2022
What is University of Scouting?
University of Scouting is designed to be a day of learning while having fun. Simply stated, it is the finest one day supplemental training offered in the BSA - designed to give you confidence and skills necessary for an exciting program. This training offers a variety of courses designed to give additional information to help in all areas and programs of the Boy Scouts of America allowing leaders to enhance and improve the program quality they deliver having a positive impact on the youth of our council.
There are no prerequisites to attend University of Scouting as this training is intended to enrich your program experience. Additional requirements/prerequisites do exist to earn degrees. You are not required to earn degrees to attend.
Degree Requirements
University of Scouting degree requirements emphasize the well trained leader.
Masters and Doctorate degrees introduce the requirement of service through training. You have a rolling three (3) years to complete the requirements at any one degree level. If you intend to earn a degree when attending University of Scouting be sure to bring the dates you completed the required trainings. Keep in mind 1 Credit = 1 Class hr.
Associates
- Registered Scout/Scouter
- Current Youth Protection Training
- Completed Leader Position-Specific Training for current position*
- Complete Six (6) Credits (as instructor or student)
Bachelors
- Complete Associates
- Registered Scout/Scouter
- Current Youth Protection Training
- Completed an Outdoor training appropriate to current position**
- Complete Six (6) Credits beyond Associates (as instructor or student)
Masters
- Complete Bachelors
- Registered Scout/Scouter
- Current Youth Protection Training
- Completed at least two supplemental trainings appropriate to current position (other than University of Scouting)***
- Teach one (1) class or staff
- Complete four (4) Credits beyond Bachelors (as instructor or student)
Doctorate
- Complete Masters
- Registered Scout/Scouter
- Current Youth Protection Training
- Completed Advanced Training****
- Teach one (1) class or staff beyond that provided for Masters
- Serve on University of Scouting planning committee at least one (1) year
- Complete four (4) Credits beyond Masters (as instructor or student)